My mom and I haven't quite finalized our Thanksgiving plans this year, but we know it'll be relaxed, intimate, and it likely won't involve any cooking. Usually I'd be sort of sad not to be taking charge of some holiday meal prep, but I've had enough on my plate this month that it'll be nice to have a quiet celebration.
I've also come to realize that Thanksgiving doesn't have to be celebrated on the day of: all of November can be an excuse to go wild with festive vegan entrées and fixings and sides. I'm not attempting anything super ambitious this month, but I am playing around with a few Thanksgiving-themed dishes. This earthy plate of farro & roasted vegetables with Italian salsa verde is just right: flavorful enough to be welcome at any holiday table, but really low-key and easy to make.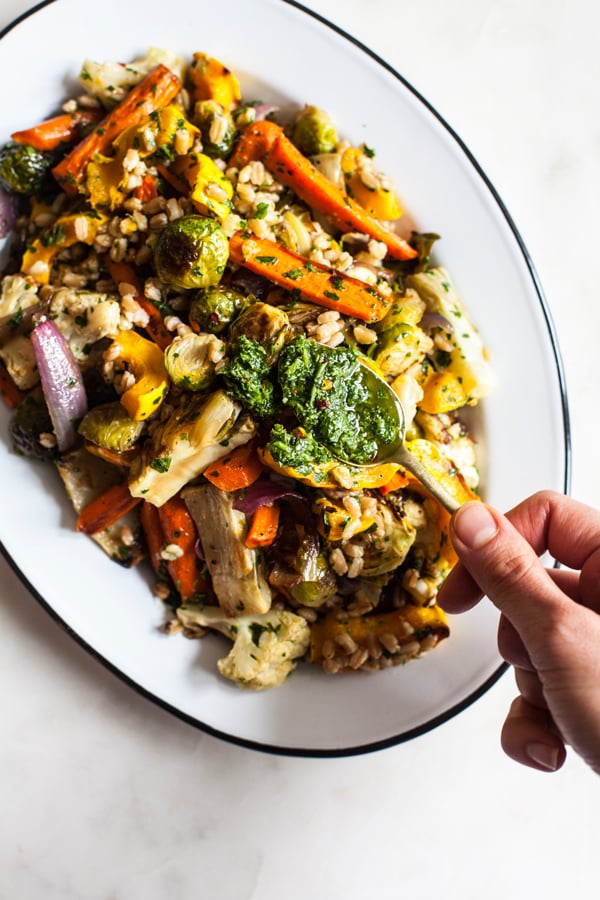 The inspiration for this recipe started with my friend Alison Cayne's cookbook, The Haven's Kitchen Cooking School, which is full of intuitive, user-friendly guidance for aspiring and experienced home cooks alike. Alison has a recipe for vegetables and farro with tahini sauce, which is a perfect potluck dish for cooler weather. I was inspired by the combination, but I kept the farro plain (hers is cooked with white wine, sort of like the start of a risotto), and I decided to brighten the plate with something green and herbaceous.
The book is also full of sauce recipes, which provided me with ample inspiration. I was thinking about a pesto, but I decided to go with something a little more wintery instead: a vegan Italian salsa verde.